Bermuda offers so many interesting activities and sights to explore, especially if you plan to stay at a beachside property like this one. The The Reefs is an excellent hotel for guests who prefer to stay active and have their choice of multiple activities.
Water and Fitness
The The Reefs has one pool. Hanging out at the pool probably isn't the most anticipated activity on your list, but it still offers a simple enough way to cool off before happy hour. Of course, you might also enjoy soaking in the hotel's whirlpool.
Tennis
The The Reefs is an excellent choice for tennis enthusiasts, considering visitors staying here can take advantage of the on-site tennis facilites. There are 2 tennis courts on the property. A lit court is not available, so you'll have to finish your matches before sunset.
Where else can you stay and play on-site tennis? You can take a look at other hotels in the area that also have courts, like the Pompano Beach Club and the Elbow Beach Club Resort.
Golf
Although golf isn't an option at the The Reefs, you may be able to arrange some playing time at one of the local courses. The nearest course to this hotel is Fairmont Southampton Golf Course, which is three quarters of a mile north east of the hotel. You'll find a total of 18 holes at this course. This par 54 course is 2684 yards long.
Watersports
While some hotels host their own, you won't find watersports activities here, but the staff is sure to help you locate nearby vendors ready to rent their equipment.
Family Activities
You are free to bring your kids to the The Reefs, but this hotel doesn't provide many family-friendly amenities. To see hotels with amenities for kids, don't miss properties rated best for family vacations.
During your vacation, you may want to relax without the kids. The hotel can make arrangements for a babysitter, so that parents can have a chance to take a romantic stroll around town.
Entertainment and Nightlife
One of this hotel's best-loved amenities is its live entertainment, which proves that staying in for the evening can be just as fun as an expensive night of bar-hopping. Entertainment is typically scheduled 7 days per week. Of course, the frequency can vary with the season.
There are also a couple of bars on the property, where guests can easily grab a cocktail or two before they see the show.
If the hotel doesn't have entertainment that fits your schedule, other nearby hotels have their own options for nighttime activity. To find more choices, see the hotels displayed below:
Nearby Hotels with Nightlife
Hotel
Number of Bars
Live Entertainment
Distance
Direction Fairmont Southampton 4
0.8 mi. E Pompano Beach Club 2
2.5 mi. W RENOVATING Horizons & Cottages 1
3.8 mi. NE Rosedon Hotel 1
4.0 mi. NE Elbow Beach Club Resort 5
4.1 mi. NE Coco Reef Resort Bermuda 1
4.2 mi. NE Cambridge Beaches Resort 3
4.5 mi. N

Spa
Not all hotels in Bermuda have a spa on the premises, but the The Reefs is one pleasant place that can provide their guests a convenient place where they can get properly pampered. The chart below lists some of the available services:

Spa Amenities at the The Reefs Sauna Steam Room Massage Facial/Mudwrap Whirlpool
Other Recreation
There are plenty of great sights and attractions in Bermuda, so you aren't limited to the particular activities the hotel has on-site. From a quiet morning spent basking in the sun, to a few hours learning about the area's history, you can't go wrong in such a tranquil setting.
Occupancy rates and room rates at the The Reefs are influenced by school schedules and other factors. To see room availability and prices, click here.
Find out which hotels offer the best nightlife in Bermuda.
Learn about the beaches in Bermuda.
Driving in a foreign country can be confusing. Learn a few rules of the road before you arrive in Bermuda.
Entertainment / Nightlife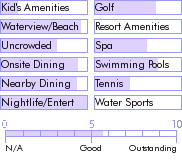 - dash right to the info you want
Copyright © 2004 - 2012 IIWINC All rights reserved.